The Way of Pilgrims
February 4, 2021
10 min read
By
Dr. Ryan Womack
Adjunct Professor of Catholic Studies, Mary College at ASU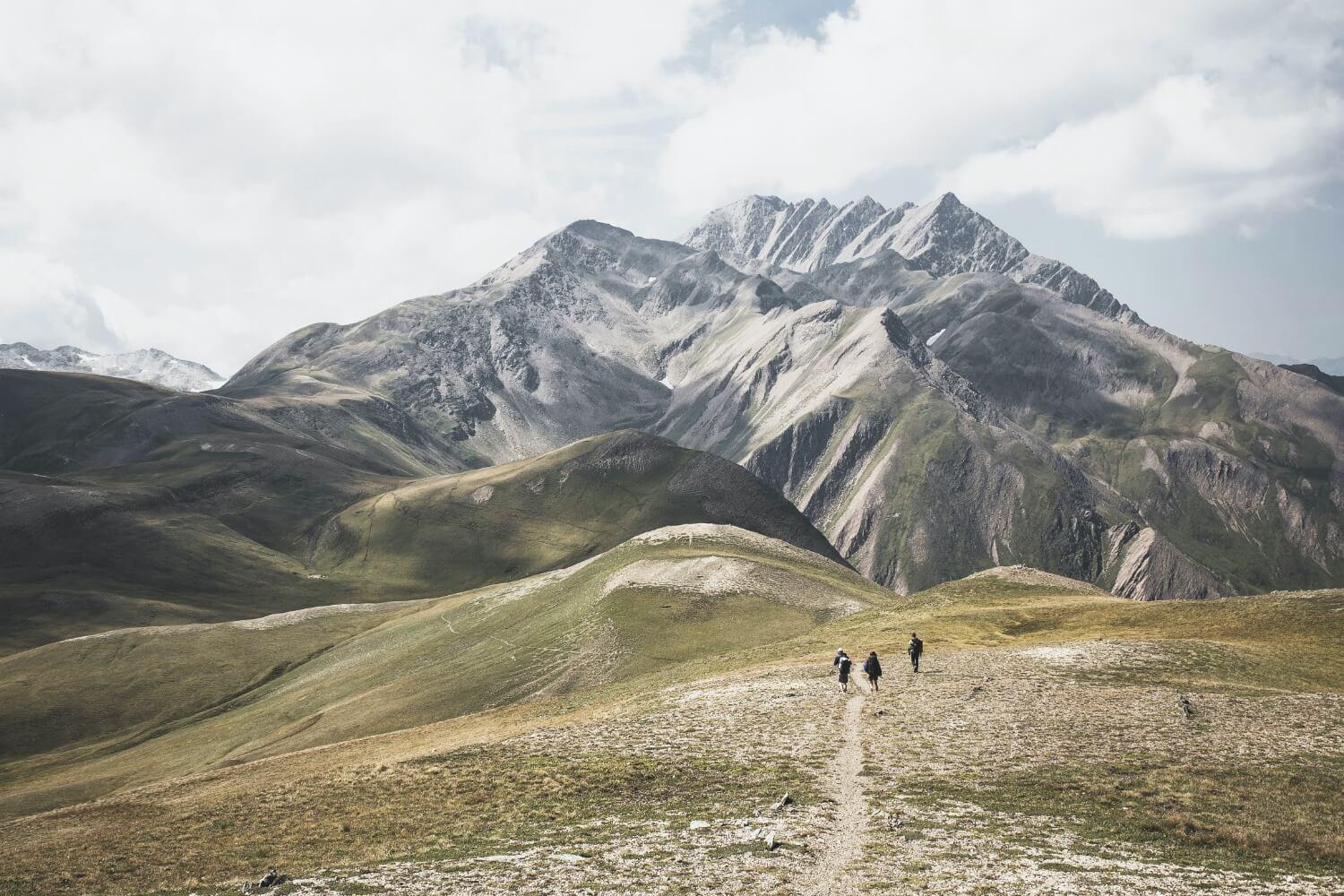 Where have all the pilgrims gone? Where, beyond Rome and the Holy Land, do modern-day pilgrims go? Reading the English Catholic convert and priest Ronald Knox's 1958 essay "Going on Pilgrimage" got me thinking more about travel and sacred places, my own experiences included. To be clear at the outset, there is no Catholic mandate to go on pilgrimage outside of an assigned penance—a rarity in our day. Knox assures readers that no one is bound to go on pilgrimage as one is bound to go to Sunday Mass, writing that "it's an extra, like doing the Stations. And the whole point of those extras, of course, is that they aren't things you're made to do but things you would like to do for the love of God."1 There are certainly many other ways to show our love to God. But for the life of faith lived, not just thought about, the way of pilgrims offers a remedy to the abstract and disembodied ills of modern life.
For one, modern travel is predicated on ease and consumption, while the Christian pilgrim way is built upon both inner and outer transformation, even sanctifying difficulty. To enliven and encounter a generation of artificiality, excess, and loneliness, Catholics can strengthen their pilgrimage devotions. In doing so, we may strengthen our souls, bodies, and communion with the Church through time and space.
Roots
The word 'pilgrim' connotes perhaps a certain image of American settlers, the English Separatists with their Mayflower, Santa Anita, belted hats, and Thanksgiving cornucopias. However, 'pilgrim' has its roots in several words, among them the Latin peregrinus, meaning "coming from foreign parts" or "wanderer," which is also the root from which the Peregrine Falcon who traverses wide ranges in its hunt draws its name. In the modern religious sense, a pilgrim is one traveling to a holy place for a religious obligation or spiritual benefit. In this broader sense, the pilgrim is a wayfarer or traveler, and the places to which they may wander may be wide-ranging.
Literature is chock-full of pilgrims, notably the spiritual allegories of John Bunyan's Pilgrim's Progress or Geoffrey Chaucer's The Canterbury Tales. Even Dante's Divine Comedy can be taken as a pilgrimage through the afterlife as Dante is transformed and sanctified in his travels. Sacred Scripture makes evident God's desire both to sanctify the quotidian, daily life, but also for us meet Him in holy places—mountaintops, deserts, wilderness, and other sites of sacrifice and promise. For centuries, Catholic Christians have made pilgrimages not just to the Holy Land but also to Rome, a tradition dated to 1300 when Pope Boniface VIII resurrected the practice of the jubilee year. Sojourners may visit a holy site, often Rome, and receive special graces. In recent memory, Pope Francis' Year of Mercy in 2015-16 was such a jubilee year, and perhaps many of us participated in that beautiful time. But what of other places in which God has made himself known and Christians have gone to great lengths to mark as holy? Where can we wander to revisit and revive the memory of God's faithfulness to his Church and the world?
...modern travel is predicated on ease and consumption, while the Christian pilgrim way is built upon both inner and outer transformation, even sanctifying difficulty.
A personal anecdote may display my own curiosity. For our honeymoon, my wife and I traveled to Rome and the south of Switzerland. Catholic newlyweds are able to visit Rome in the months following their wedding to receive the sposi novelli, a Wednesday-audience papal blessing granted by the Holy Father to newlyweds, and like many Catholics, and though we had a relatively short time, we knew such an opportunity would not come again. This was the planned pilgrimage. Our second "pilgrimage", if such a happy accident may be called one, was to the Madonna del Sasso, in Locarno, Switzerland. This I stumbled onto after a simple search for "pilgrimage in Switzerland," which turned up relatively few results. Perched high in the granite cliffs above Lake Orta sits the Sanctuary of Our Lady of the Rock, the endpoint of minor sanctuaries connected by trails through Le Valli della Fede (The Valleys of Faith). Its sanctuary dates back to a Marian apparition in 1480 to a Franciscan brother by the name of Bartolomeo d'Ivrea.
What struck me about our visit, besides the splendor of this holy site, was how unmarked was this hidden gem and just how clueless I was to its existence. As we discovered, it has been a holy site for wayfaring pilgrims for centuries, and it serves as one stop on the Way of St. James—the Swiss route to the Camino de Santiago in Spain. For centuries, Christians thought it was worth venturing to and building, at great cost of time, craft, and materials, over and over again. What sort of love of God, what sort of devotion, would it take to carry such a project to its end? How many pilgrim visitors have walked these valleys and mountains to meet God in the particularities of the lower Swiss Alps, and how many more such places exist off the once-beaten path? What pilgrimages do we make in our day, and where are our holy places?
The Pilgrim: Travel or Tourism?
What makes a pilgrimage different than a tour to, say, Rome or another holy site around the world? The essential difference, I think, is that the pilgrim is not a tourist but rather a traveler. As Chaucer's Canterbury Tales begins with a pilgrimage to the healing site of St. Thomas Becket's bones, so it is that the pilgrim's way is not merely to see or take in such places but to be transformed by them as well as the travel itself. Daniel Boorstin comments on the lost art of travel in his book The Image: A Guide to Pseudo-events in America, describing how the traveler evolved into the modern tourist. The problem is that the modern tourist no longer seeks transformation but rather comfort and familiarity, and even "exotic" locations are made familiar through highly-cultivated tours and a proliferation of images before we even arrive. As one might view the online menu before dining at a nice restaurant, who has made a trip abroad without consulting the vast resources of the internet and feels a certain familiarity before ever setting foot in the new land? From all this develops a kind of secondhandedness with which we accept places at a comfortable distance, visiting them without really entering them on their own terms.
Distinct from the tourist, the pilgrim traveler welcomes a certain unknown element into their visit, harkening to the roots of travel, which is "travail" (meaning "trouble", "work", or "torment"). Before the late nineteenth century, almost all travel was difficult—wild, uncertain, even dangerous. Sometime after the middle of that century, the character of travel began to change. As Boorstin argues, "tourist" arrived as an English neologism only in the nineteenth century to describe the new "person who makes a pleasure trip," developing from the "Latin tornus, which in turn came from the Greek word describing the tool to make a circle."2 In effect, a tourist is one who does a thing only to arrive back at his initial starting point: "The traveler, then, was working at something; the tourist was a pleasure-seeker. The traveler was active; he went strenuously in search of people, of adventure, of experience. The tourist is passive; he expects things to happen to him… He expects everything to be done to him and for him."3 The tourist can purchase an experience, and so he gets exactly what money can buy. He operates in a kind of closed-loop of cultivated experience and ease.
In itself, there is nothing wrong with this, as long as one knows the deal. As Boorstin writes, "Father Junipero Serra set his California missions a day's journey apart. Today you can fly over the whole string in a few hours. If we are to set our hotels a day's journey apart, we'd be around the world in no time."4 If arriving at a place is the central goal, as one "does Paris" or "does Rome" in their time abroad, then time and space are merely the things to be conquered. An airplane will efficiently do the job. However, the pilgrim traveler undermines the consumptive milieu attendant in the modern traveler. Whether we like it or not, cosmopolitan Americans who can easily travel the world risk becoming cultural consumers instead of true visitors and guests to the places they—we—visit. Pilgrims, though coming from foreign parts to a certain place, see that time and space are part of the process by which the end is made fruitful and experienced.
From all this develops a kind of secondhandedness with which we accept places at a comfortable distance, visiting them without really entering them on their own terms.
Knox acknowledges the natural curiosity we have to see places of historical importance or natural beauty, but that in pilgrimage this "instinct of curiosity is overlaid with something new; with feelings of awe and devotion; you must take off the shoes from your feet—you are standing on holy ground."5 Curiosity is elevated into a kind of influence from the place and history of your religion, and a pilgrim becomes a "sightseer endowed…with a kind of second sight."6 The earliest Christians went to great lengths, risking life and limb in defiance of the Roman empire, to preserve holy sites of Christ and the martyrs. Christian missionaries have trod nearly every inch of the known world, far beyond Rome and the Holy Land, sometimes into pagan culture to spread God's message, other times to find God in their wanderings. These are all pilgrim ways, getting to the peregrine root of the word. As Knox argues, "I think you can say that, although they visited holy places wherever they went, these people traveled for the sake of traveling. I don't mean they found it comfortable, went abroad to see the world as you and I might. Nor do I mean that they found it uncomfortable, and did it for that reason, in penance for their sins; that idea became fashionable rather later, in the Middle Ages. I think they just wanted to get away from the world, from the people and scenes they knew, in order to get closer to God."7 It was this time period that produced the Desert Fathers, those who discerned God's voice even in the vacant spaces.
Persons and Places
Our faith must become more embodied and run counter to the ease of modern life. Like most everyone, I am no enemy of creature comforts nor to the ease and miracle of modern travel. But as a Christian, and in light of the traveler's setting of the Holy Family's Nativity, or the Magi's epiphanic arrival, there is a sense in which our going out—as much as our staying still—must be sanctified.
The COVID-19 lockdowns have impressed upon me, perhaps us all, the fragility of liberties such as traveling where our whims lead us. The attendant loneliness, too, that accompanies isolation is a great reminder that for the Christian, as Knox says, "when we go on pilgrimage, it is a kind of corporate act; each of us goes as one of a crowd, and means to be one of a crowd… he is not just thinking of his own soul and his own needs."8 Pilgrimages to Rome and the Holy Land have been revived in recent years in high schools, universities, and parish communities. These will hold unaccountable blessings in the years to come. Such official trips have been canceled in the past year, and probably for much of the next. May this be a time to rethink and recover a longing for pilgrimage in the Christian life? Indeed, like Chaucer's travelers, we may see our own story bound up with the story of others, saints both here and gone to Heaven.
"But at the same time we do, like our forefathers, believe in the existence of holy places. Not only at Bethlehem or Nazareth, but wherever God may appoint, sometimes the partition between this world and the next seems to wear thin, and the supernatural shines through; God keeps tryst with man…and that in such scenes God does offer no ordinary graces, to the soul which approaches them humbly, and expectantly, and in a spirit of faith."9
---
1 Ronald A. Knox. Literary Distractions, (Sheed and Ward: New York, 1958), 22.
2 Daniel Boorstin, The Image: A Guide to Pseudo-Events in America, (Harper Colophon Books: New York, 1961), 85.
3 Ibid, 85.
4 Ibid, 97.
5 Knox, Literary Distractions, 23.
6 Ibid.
7 Ibid, 25.
8 Ibid, 34.
9 Ibid, 35.