There Will Be Light
March 4, 2021
25 min read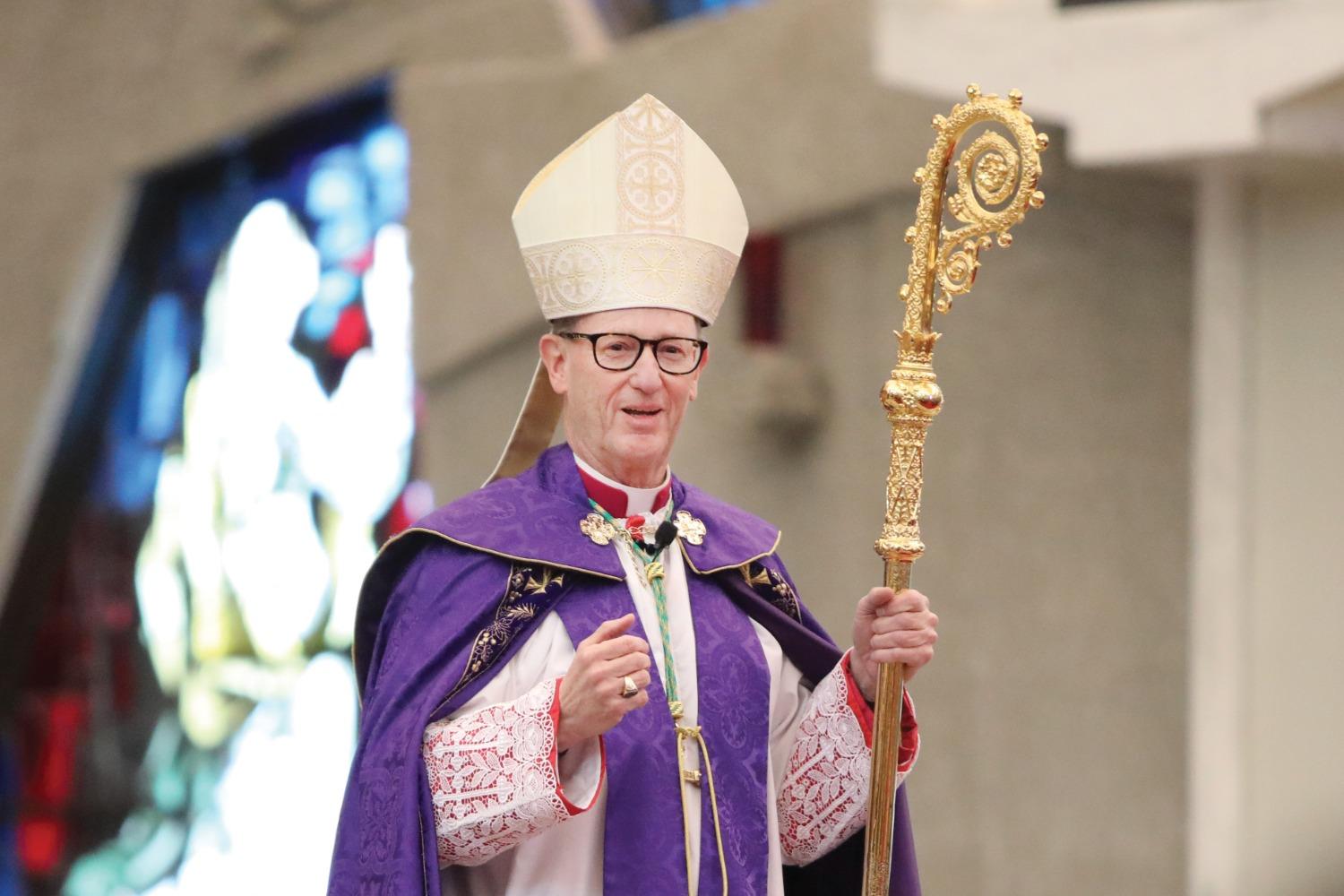 Most Rev. James D. Conley, Bishop of Lincoln, joined Dr. James Link, a Catholic clinical psychologist based in Bismarck, North Dakota, via Zoom on January 30, 2021, to discuss the relationship between Catholic spirituality and psychology. In December 2019, Bishop Conley requested time away in order to seek assistance in dealing with anxiety and depression, an experience he shares with Dr. Link in order to encourage others to seek help when struggling with mental illness.
---
Dr. James Link (JL): I want to start by saying that I'm excited to be a part of this conversation. I think your insights and experience are going to be so helpful for people, especially given your role of leadership in the Church.
The first thing I would like to ask is how you knew it was time to seek help. It's a hard thing for people to finally acknowledge, "Maybe this is more than I can handle on my own." What was the pivotal moment where you felt, "This is more than I can manage."?
Bishop James D. Conley (BConley): That's a really good question. It didn't happen all at once. It took about a year-and-a-half of trying to soldier through it, thinking I could just tough it out. I don't have any history of mental illness in my family, and I had a great mother and father. My mother just passed away at 92 years old. We had a great family life. In fact, I was raised Protestant, but both of my parents became Catholic and I received them into the Church. My family was pretty strong and stable.
My father was a World War II veteran – he was a gunner on an aircraft carrier. He was also a great athlete, and he played professional baseball. He was one of those self-made men. And so he instilled in me and my sister this sort of can-do­ attitude about everything: "you can do whatever you want to do, pull yourself up by your bootstraps, if you're not doing it you're just not working hard enough." That's kind of the American ideal, especially for his generation. That generation did great things, and my dad was a great inspiration to me. But that's the mentality I had when I was first trying to work through my struggles with mental illness: "I can get through this, I can soldier through this."
Around the Summer of 2018, a lot happened in the Church. The McCarrick report came out and then the Pennsylvania Grand Jury report came out, and a sort of pall fell over the Church. And then in my own diocese I had to remove a number of priests for various reasons, and that really hurt me. Then we had a tough Fall. The Attorney General announced an investigation of all three dioceses in the state. We also had to close a couple parish schools, and then, later on that winter, a priest younger than me died. Because I'm the bishop, I felt like I had to fix all these problems – I was praying, of course – but it was all wearing me down. I took all that pressure and stress upon myself. During the Second Vatican Council, when things were really uncertain in the Church and in the world, Pope St. John XXIII at night would pray, "Lord, it's your Church, I'm going to bed!" I would always advise people to do the same, but I wasn't doing it myself. I wasn't sleeping – and you can only go so long without sleeping. So I decided that I needed to find out what was going on.
I have a good friend that works at Mayo Clinic in Rochester, Minnesota, so in March of 2019 I went and got checked out there and I was diagnosed with a major depression disorder. So that's when I realized that something deeper was going on, and I started counseling and some medication. At that point, I thought, "It is what it is, and I'll get through this." But as I progressed through Summer 2019 and then into Fall 2019, things hadn't gotten better. They had actually gotten worse. A couple of good friends of mine and my sister told me that I needed to do something and get away and get some help. I was too busy to be able to fix myself with all my responsibilities and duties.
During the Second Vatican Council, when things were really uncertain in the Church and in the world, Pope St. John XXIII at night would pray, "Lord, it's your Church, I'm going to bed!"
So it was my sister and several friends who helped me to make the decision to go away and get help. At the November 2019 meeting of the bishops of the United States, some of my bishop friends and I huddled. Archbishop Coakley, the archbishop of Oklahoma City, was one of them. We grew up together and even played baseball together in the seventh grade; in fact, my dad was the coach. Bishop Olmsted, bishop of Phoenix, was another. Bishop Olmsted was my bishop when I was a priest of Wichita, and he had been a Lincoln priest. Bishop Wall, bishop of Gallup, was another friend in that group. We talked about it, and they convinced me to go talk to the apostolic nuncio to the United States, Archbishop Christophe Pierre, who was present for the meeting. He was wonderful about it. I told him everything – basically what I've said here – and he said, "You need to take a break." He was very positive and supportive. So he had me write it all up and send it to him. For a bishop to get time off the request has to go to the Holy Father, so Archbishop Pierre called me while I was giving an Advent retreat at our diocesan retreat house to let me know that the request had been granted. I left on December 13th, the Feast of St. Lucy, 2019.
So it was really my closest friends – I mentioned some of them, and there was another priest I had talked to a lot – who encouraged me to seek professional help.
JL: That's so important, because I think for a lot of people it's hard to even talk about mental illness with family and friends. To receive support like you did had to be instrumental. Particularly as a bishop, I'm sure it's not easy to go away for a while. To have the support of your brother bishops and the Holy Father must have really been quite a relief for you.
BConley: The support really was and continues to be a great relief. I've had nothing but support and encouragement from my brother bishops, commending me for being so open and transparent, saying that this is going to help others who are in positions of responsibility – be it priests or bishops or anyone else – to seek help and not be afraid of the stigma attached to mental illness. And that's my hope.
JL: Do you think that would have been the attitude 20, 30, 40 years ago among priests and bishops struggling with mental health issues? Do you think there's a greater awareness and understanding of mental health now? Like you said, it's not just weakness or the sort of thing you just "need to pray through."
BConley: No, I don't think the reception would have been the same decades ago. Even issues of physical health were treated differently. If a bishop was having his gallbladder removed, for instance, it would usually have been treated as confidential information that no one was supposed to know. I don't know if that was because the bishop is supposed to be this pillar of strength for the faithful, a shepherd that can't show any weakness, or perhaps it was because this sort of thing is personal and private. But all such things were always kept confidential.
JL: Maybe you could talk a bit about what your time away consisted of? What did those months look like for you in terms of your treatment and spiritual life?
BConley: Bishop Olmsted invited me to spend the time down in Arizona, and I was fortunate for that. I wanted to go someplace sunny, because that felt like the best environment for me. There is a retreat center named Mount Claret that's right at the heart of Phoenix, tucked up quietly beneath this iconic mountain in Phoenix, Camelback Mountain. Thanks to Bishop Olmsted and the Holy Spirit, one of the four little adobe casitas for retired priests at the retreat center was empty, so I stayed there.
Bishop Olmsted connected me with a Catholic psychotherapist, who is really a wonderful gentleman. My spiritual director was a young diocesan priest who is a hermit at Black Canyon, about 40 miles north of Phoenix. A lot of the Phoenix priests go up there for spiritual direction. So I would go there for spiritual direction every two weeks, and I would meet with the therapist every week. I also had a medical doctor, Dr. Frank Agnone, who does a lot for the Church and is great friends with Bishop Olmsted and Bishop Wall.
I'm the episcopal advisor to the Catholic Medical Association, and one of the board members is a psychiatrist who happened to be in Phoenix at the time. So I asked if she could be my psychiatrist, helping with medications – and I'm grateful that she said "yes" and continues to be my psychiatrist to this day. She lives in California but we're able to do everything through telemedicine. So that was my "team."
I have to include this, because this was probably as essential as anything else. When I was working in the Vatican, I served as the chaplain to the University of Dallas' Rome program. For six-and-a-half years I said Mass for those students three nights per week. Two of those students ended up getting married to each other, and they came back to Rome and worked at the campus. I baptized their first child there, at the parish church in Castel Gandolfo. Their names are Luke and Allie Speier, and they have five children now – the oldest just started at Christendom College. They live in Phoenix, and I was at their home about three nights each week. Just sitting down at the table and having dinner with a great Catholic family was so therapeutic. They have great, healthy kids and are very involved at Ville de Marie, a K-through-12 Catholic school that Luke's parents helped to found. That kept me grounded, and I always looked forward to that.
Finally, of course, I got exercise. I would hike Camelback Mountain and play golf – I love golf.
JL: Bishop, as you're talking I'm thinking about the integrative model you had – it's so helpful when you're able to address mental health issues from a medical and a psychological and a spiritual standpoint all at once. And like you said, you were able to be around families. What a great gift that you were able to have that type of support team available that addressed every aspect of your human person.
Cognitive-behavioral therapy has a lot to do with the voices or the thoughts that can go racing through your head. It's important to counter those with positive, grace-filled thoughts.
BConley: I was so fortunate. When I first thought about where I could spend this time, I considered a number of treatment options that are really quite good, like the St. John Vianney Center. But I ended up putting together my own program with the help of the people I've mentioned. Not everyone has the freedom and the luxury to do that – although it was a lot less expensive in the end! Bishop Olmsted made a lot of that possible – being able to connect with great Catholic healthcare professionals and reserve a place at Mount Claret.
JL: What a gift that was.
When a person goes away for treatment – or goes away for any period of time to deal with any medical or psychological or psychiatric issue – sometimes they return to discover a sense in others of, "Well, I'm glad you're back and all better, so get back into your routine!" But no matter what someone may be dealing with, we live within the human condition, so treatment of any kind is never just as simple as, "Well, all better, that's taken care of now." Managing one's condition is an ongoing process. With that in mind, could you say a bit about how your daily life has changed? Does it look different in terms of how you take care of yourself now?
BConley: Well, that's exactly what happened to me. As soon as I landed back in Lincoln and then came into the office on November 13th, 2020, there was a line out of my front door. They weren't there to say "hello" – they had already done that. They were there with a list of things for me to do and papers for me to sign. I'm still trying to manage those expectations. I told my secretary that I would come into the office at 10:00am and go home at 3:00pm each day, and she's been able to keep that for the most part. I'm still learning to say "no" to things.
Right now, I don't have the energy that I had a couple of years ago. I can't take on as much as I used to, nor do I want to take on as much as I used to. In fact, I was talking to Archbishop Lucas, who served as apostolic administrator here in Lincoln while I was gone, and he told me that the pandemic made him realize that he had been running around like a chicken with its head cut off. What this experience of mental illness has taught me is that life is too short to fill every day up from morning to night, even when we're filling the day up with good things. So, really, finding the right balance – a healthy balance – is an art. I'm still working on the exercise piece. There are 12 inches of snow on the ground here in Lincoln right now, so I can't ride my bike, and it can be hard to get into the gym because they are making us sign up in advance due to social distancing.
It's important to be aware of what gives me energy and what saps my strength. Yesterday, for instance, was a great day. We started Catholic Schools Week, and I went down to a K-12 school in Nebraska City. We had an all-school Mass with adoration and a Eucharistic procession. They managed to fit all the students in the gym, 6 feet apart, and for the procession I took the Blessed Sacrament to the door of each classroom. The students stayed in the room, but they all got down on their knees for the Blessed Sacrament. That was a very beautiful, life-giving event for me. Things that sap my energy are things like working through emails and a lot of the administrative things you simply have to do as a bishop – it can really sap the energy out of you.
JL: We talk about boundaries in my work. It's an ever-evolving art, and as soon as you think you have everything balanced it slips through your fingers. It's something we have to continue to work on daily, and I imagine that for someone in a position like yours it's extremely difficult to find balance. You're called to look after your people, but you also have to meet your own needs and look after your health, which is difficult.
BConley: There are good days and bad days with that. I've been feeling pretty good the last couple of weeks, but there was a day or two in that time when I felt like I was moving backward. I don't know what it was, but I'm still a work in progress. I think I can get to where I need to be with the grace of God, but I'm not there yet.
I remember talking to my therapist about this, and he said "You know, you just have to keep moving forward. There will be light at the end of the tunnel." ...There have been so many times where I felt like I just didn't know where I was going – but I just kept moving, one step and a time!
JL: One of the big forms of therapy over the past several decades has been cognitive-behavioral therapy, where we examine a person's thoughts and feelings and try to understand how they influence that person's behavior. When you work with people through that lens, as I do, you come to see that people's thoughts can be pretty negative and pretty catastrophic, especially in the ways we compare ourselves to others and relate to them. For the benefit of those who will read this interview who themselves are struggling through the human condition, I was wondering if you could speak about any thoughts patterns you have that hook you into feeling anxious or depressed – whether it's perfectionism, or shame, or comparing, or personalizing. Do you recognize in yourself a kind of predisposition toward any thought patterns like that?
BConley: Comparing myself with others has been at the center of my experience of depression. It hasn't been so much perfectionism as it has been hearing about good things other bishops are doing and then having this sort of sad reaction to that, thinking, "I'm a failure. Why couldn't I do that?" And then that spirals down. That was all heightened a bit when I was away, and I would go to this place of wondering if I would ever be able to go back.
I've never really had a suicidal thought. I remember a couple of times thinking, "Maybe this Mack Truck will come and put me out of my misery, and it wouldn't be my fault." But I can understand why people have thoughts of suicide, because things can get so dark, and you can convince yourself that you're a failure, that there's no hope, that you can never get back to a better place.
I remember talking to my therapist about this, and he said "You know, you just have to keep moving forward. There will be light at the end of the tunnel." When he would say that, I wasn't sure if he was right. But he would quote Winston Churchill to me, "If it feels like you're going through hell, keep going." You've got to keep moving, even if you're in a complete fog, you have to keep moving. There have been so many times where I felt like I just didn't know where I was going – but I just kept moving, one step and a time!
But back to the idea of comparing, it was such a large part of my experience. When you see a good bishop doing something really good, that should bring you joy! You should say, "That's great that he's building up the Church" – but for some stupid reason you turn it back on yourself. It's a crazy way of thinking, but you just keep falling into it. Cognitive-behavioral therapy has a lot to do with the voices or the thoughts that can go racing through your head. It's important to counter those with positive, grace-filled thoughts.
JL: Along those lines, maybe it would be good to talk a little about the integration of faith and mental health. I work both with people who have some sort of religious belief and people who don't. There's a tangible difference. People who have faith can always go back to the Word of God, to Scripture. Even when I don't believe that I'm loved or that I'm important, the Word of God says that I am, so I have to cling to that. And I have to anchor myself with that, even though it doesn't always feel like it's true. But when people don't have that belief in the Word of God, objective reality sort of goes flying out the window, and it all becomes a subjective matter of how I'm feeling. Our feelings become the measure of who we are, which is dangerous.
Could you speak about how your experience of mental illness has impacted your faith? That's a big question, but I think it could be really helpful for people to hear how, as a bishop, the Faith played into your experience.
BConley: Negative thoughts, anxiety, and depression can make it really difficult to pray. My spiritual life has been the anchor that keeps me linked to God, but when you kneel down to pray the psychological side of things is always a factor. I clung to the Breviary – along with Mass and the Rosary – to keep hanging on to God, so to speak. But there were times where I would ask myself, "Am I losing my mind, or am I losing my faith?"
Just after the lockdowns began, the world became so quiet. Mount Claret, as a retreat center, was of course quiet before the lockdowns, but then other retreatants stopped coming. Other than the director – a terrific lay man named Tom McGuire – I wouldn't see anybody. I would say Mass by myself often, and it felt just like a chore I had to get through. Those were the depths of where I was. Tom would come to Mass when he could, and eventually I started saying Mass for four Sisters of Mercy of Alma. But when I was in the midst of this suffering, saying the Mass became so difficult. Still, the Mass, the Breviary, and the Rosary were my links to God.
I could always fall back on the truth of faith even though it was difficult and I was struggling with it. I almost felt like I was learning how to pray all over again.
As I mentioned earlier, I worked with a spiritual director, and he gave me books to read. It was difficult to read and stay focused, but those books helped me walk out of this dark cave. The great spiritual writers of the tradition talk about the dark night of the soul and the experience of the absence of God – and I was experiencing these realities spiritually, but also psychologically. You can't really separate faith and psychological or mental activity. Mental prayer transcends those boundaries. But the faith is definitely the bedrock of my being, and it's what kept me going forward. I could always fall back on the truth of faith even though it was difficult and I was struggling with it. I almost felt like I was learning how to pray all over again.
JL: Could you speak more to that last point briefly? What would you say to people who may be suffering from any type of illness and find it difficult to pray?
BConley: Everyone is different so it's hard to give a single answer, but I think the Scriptures play an important role. To be honest, I haven't always found praying with the Scriptures life-giving. A lot of my first interactions with the Scriptures were in seminary classes that used the historical-critical method, where we "murder to dissect." Everything is taken apart, but it's never put back together! So it took a while before I began to appreciate the Scriptures fully – and I was raised Protestant! But the Scriptures guide our prayer and allow us to encounter the Word of God.
The Rosary, again, can also be a help. When it's so hard to pray, just going through the beads and saying the Our Father and the Hail Mary can be something of a consolation. That is a very simple thing people can do. When people are suffering the tendency is just not to pray, and that's dangerous, because when we do that we grow farther and farther away. I don't want people to feel guilty about struggling to pray, but we all need to do something. When we're suffering, it can be important to stick with things that are simple and familiar.
JL: I'm glad you mentioned the idea of feeling guilty about not praying. People can fall into a cycle of feeling shame and guilt about not praying, and it wraps them into a loop. Many people who have struggled with psychiatric illness for many years – and have tried so many different types of medication and have been to numerous therapists – begin to feel a little hopeless about their suffering. And perhaps they want to pray about it, but they don't quite know how. I always refer back to two authors. The first is Viktor Frankl, who wrote Man's Search for Meaning. The second is Pope Benedict, in particular his encyclical Saved in Hope (Spes salvi). They both write about the importance of finding meaning in the midst of suffering – they just come at it from slightly different angles. Even if you've lost everything and you're on your deathbed, you still have the ability to relate all that loss and pain to a higher power. I think sometimes people over-spiritualize that a bit, but I find that when people really get it, a profound sense of meaning comes into their lives: "Even if I'm suffering and it won't get better today, I know that if I offer it all to Christ for the sake of my children, for my family, for poor souls that have no one to pray for them, He won't let it be in vain. That gives me a little light." Can you speak to that? Because I think a lot of people want to offer their suffering like that, but sometimes they don't quite understand it theologically and psychologically.
BConley: When I first went down to the Phoenix for my time off, I had hoped that I would get back by Easter. So as time went on and it became clear to me that I wouldn't be ready by that point, I started thinking in the back of my mind, "Why is this happening, and what if it doesn't get better?" That's when I began pondering St. Paul's words, "Fill up what is lacking in the suffering of Christ." Christ, for whatever reason, invited me into this suffering to help redeem the world and to offer it up for the Church. I was offering my suffering up in particular for the crisis in the Church. This theological understanding has allowed me to offer this experience of mental illness up for the Church. But if you don't have that theological understanding, then suffering has no meaning at all: it's absurd. And I think many people experience suffering through that lens of hopelessness.
I think during this pandemic we've seen a lot of this fear and misunderstanding of what to do with suffering. Suffering and death aren't the end – we are made for eternal life, and there will always be plagues and disasters. There's more to life than surviving.
[I]t's important for people to know that they have nothing to lose and everything to gain from talking to someone and getting professional help when they need it.
I know that my life is not without purpose, even if I'm still trying to become more conscious of that fact. And that gives me a bit of consolation. The Lord is going to use my suffering somehow. Already people have written to me, thanking me for being willing to talk about my trial. Maybe the Lord wanted me to use this to break open some hearts that needed the example of a bishop who admitted his suffering and his mental illness in order to go get help. Soon after I left, a young priest from a Midwestern diocese committed suicide. I read about it just a couple weeks after I arrived in Phoenix. Sometimes people just need help, and that's why we have to be able to speak to others about mental illness. I hope that something we are discussing together right now resonates with people who are suffering, and perhaps encourages them to seek out and truly accept the help they might need.
JL: That's why I think you're such a great witness. So many people feel a sense of shame about their suffering, so the example you are giving by talking about your experience is crucial. Most of my referrals and patients are Christians, and they often have this misperception that if they only prayed more or had more faith everything would be taken care of. But the reality is that the Lord often allows us to undergo suffering also in the midst of great faith. I can imagine that many of my patients will read this and be consoled to see that a bishop of the Church has experienced the same suffering they've felt all these years.
As a shepherd of souls, what would you say to someone reading this who is struggling with depression, anxiety, or any other type of psychiatric illness? What insight can you give based on your own experience, spiritually and psychologically?
BConley: First of all, stay in contact with the Lord in prayer. Second, share your story with someone that you really trust. If you don't have someone like that in your life, find someone you can share your intimate thoughts with. There will be somebody out there you can talk to and trust. It's so important to have someone else so that you're not stuck in your own head: they can provide you with a more objective opinion. And if after talking to them you think something is off-kilter, you don't need to be afraid to contact a professional.
I think people feel ashamed if they make an appointment to see a counselor, and they are afraid of what people would think if someone found out they had gotten professional help. I have those thoughts, too. Sometimes I wonder if people are looking at me thinking, "Uh oh, now is he going to say something crazy in his homily?" or "Is he going to go mad all of a sudden?" But that's not really what people are thinking. So many people have experienced mental illness in their own lives or within the lives of their family and friends that they're far warmer and more accepting than we fear. The response I have gotten has been incredibly positive. I have not received anything in writing that has been anything but positive, telling me how courageous I am. I don't know that I'm courageous – I just didn't have anywhere else to go. But it's important for people to know that they have nothing to lose and everything to gain from talking to someone and getting professional help when they need it.
JL: With so many people of faith – this was probably more of an issue years ago – there is a suspicion of psychiatry and psychology, and an idea that these disciplines are antithetical to the faith. And that stops them from seeking professional help. It's true that many in my profession can be very secular in mindset on a lot of issues, but I think the more we are able to train faithful young men and women to do the type of work we are talking about – and to do it well – the more people of faith will realize that good help exists. People of faith don't want to leave their deepest convictions at the door when they see a therapist, so knowing that it's possible to encounter a healthy integration of faith and psychological help makes it so much more accessible and inviting. I'm sure you felt you never had to leave your faith or your role as a bishop at the door in your treatment, and that must have been helpful.
BConley: Just as you said: I had hand-picked people for my "team" who were very Catholic. Even non-Catholic Christian counselors can be very effective. There's a lot of help around.
JL: Bishop Conley, thank you for your time and your witness. I could talk to you for hours! To have a bishop who is so admired, faithful, bold, and in love with the Church speak directly about his experience and suffering will be very encouraging to so many people. Thank you!
BConley: I think the Lord is leading me to use my experience to help others to find healthy ways to live – to find happiness and holiness. Thank you for helping me to be a better witness.