Most Rev. James D. Conley
About the Author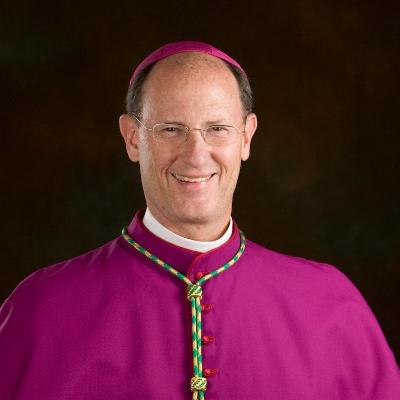 Contributor
Bishop of Lincoln

Most Rev. James D. Conley, D.D., S.T.L., is the Bishop of Lincoln.
Since his priestly ordination in 1985, Bishop James D. Conley has served the Catholic Church in a wide variety of ways—as pastor, college campus chaplain, director of Respect Life ministries, theology instructor, Vatican official and bishop. In all of these tasks, he has seen his life as a priest as a call to service and complete surrender to "God's providential hand."

For his episcopal motto, Bishop Conley, a convert to the Catholic faith, chose the same motto as the great ninteenth-century English convert, John Henry Cardinal Newman, "cor ad cor loquitur," which means "heart speaks to heart."
Born on March 19, 1955, to Betty and the late Carl Conley, Bishop Conley was raised in Colorado and Kansas. Bishop Conley graduated from the University of Kansas with a BA in English Literature in 1977. While in college, he studied in the University of Kansas's Integrated Humanities Program, a well-known classical great books program. During his junior year, he converted to the Catholic Church on December 6, 1975. His mentor and teacher in the Integrated Humanities Program, Professor John Senior, was his godfather.

After college, Bishop Conley worked on a farm in north central Kansas and traveled to Europe. In 1980, he entered seminary for the Diocese of Wichita. He received philosophical formation at St. Pius X Seminary in Erlanger, Kentucky, and his theological formation at Mount St. Mary's Seminary in Emmitsburg, Maryland, where in 1985 he earned a master's degree in divinity. In 1989, his bishop sent him to Rome, where he earned a licentiate in moral theology from the Accademia Alfonsiana, part of the Faculty of Theology at the Pontifical Lateran University.
On May 18, 1985, Bishop Conley was ordained a priest for the Diocese of Wichita. For the first few years of his priesthood, he served as associate pastor at St. Patrick Parish in Wichita and then as diocesan director of the Respect Life Office.

In 1991, after earning his licentiate in Rome, he was appointed pastor of St. Paul Parish (Newman Center) on the campus of Wichita State University, while continuing his service as director of the Respect Life Office. He had the privilege in 1991 of baptizing both his mother and father and receiving them into the Catholic Church.

Bishop Conley was called back to Rome in 1996 to serve the Holy See as an official in the Vatican Congregation for Bishops. In Rome, he also served as chaplain to the University of Dallas Rome Campus from 1997 to 2003 and as adjunct instructor of theology for Christendom College Rome Campus from 2004 to 2006.

On February 9, 2001, Pope John Paul II named him "chaplain to his holiness" with the title monsignor.

After 10 years of service at the Holy See, Bishop Conley was called back to Wichita Diocese and named pastor of Blessed Sacrament Parish, effective August 1, 2006.
On April 10, 2008, Pope Benedict XVI announced the appointment of Rev. Msgr. James D. Conley as auxiliary bishop for the Archdiocese of Denver. Denver Archbishop Charles J. Chaput, O.F.M. Cap., ordained him as the new auxiliary bishop on May 30, 2008, the solemnity of the Sacred Heart, at Denver's Cathedral Basilica of the Immaculate Conception. As auxiliary bishop, he assisted Archbishop Chaput in the pastoral care of the archdiocese.

On September 8, 2011, the Vatican's Congregation for Bishops announced that due to the appointment of Archbishop Chaput as archbishop of Philadelphia, Bishop Conley was named apostolic administrator of the Denver Archdiocese. An apostolic administrator is appointed by the pope to lead a diocese during the "sede vacante" (vacant see) period between bishops. Thus, Bishop Conley was entrusted with the authority of the diocesan bishop to teach, sanctify and lead Catholics residing within northern Colorado until Bishop Samuel Aquila of Fargo, North Dakota, was installed as archbishop of Denver on July 18, 2012. With the installation of Archbishop Aquila, Bishop Conley resumed his former title of auxiliary bishop.

On September 14, 2012, Pope Benedict XVI appointed Bishop Conley as the bishop of the Lincoln Diocese in Nebraska. Bishop Conley was installed as the ninth Bishop of Lincoln on November 20, 2012 in the Cathedral of the Risen Christ in Lincoln.
Published Pieces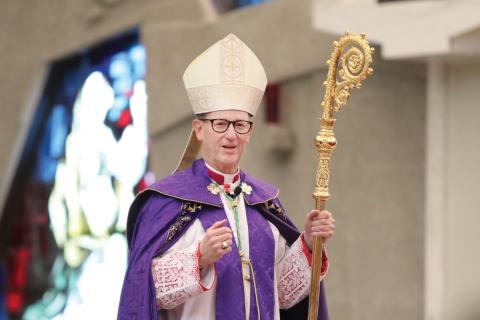 There Will Be Light
Most Rev. James D. Conley, Bishop of Lincoln, joined Dr. James Link to discuss Catholic spirituality and psychology, reflecting on his own struggles with mental illness.
Most Rev. James D. Conley
Dr. James Link
Mar 4, 2021