In Memory of Father Ian Ker
November 17, 2022
10 min read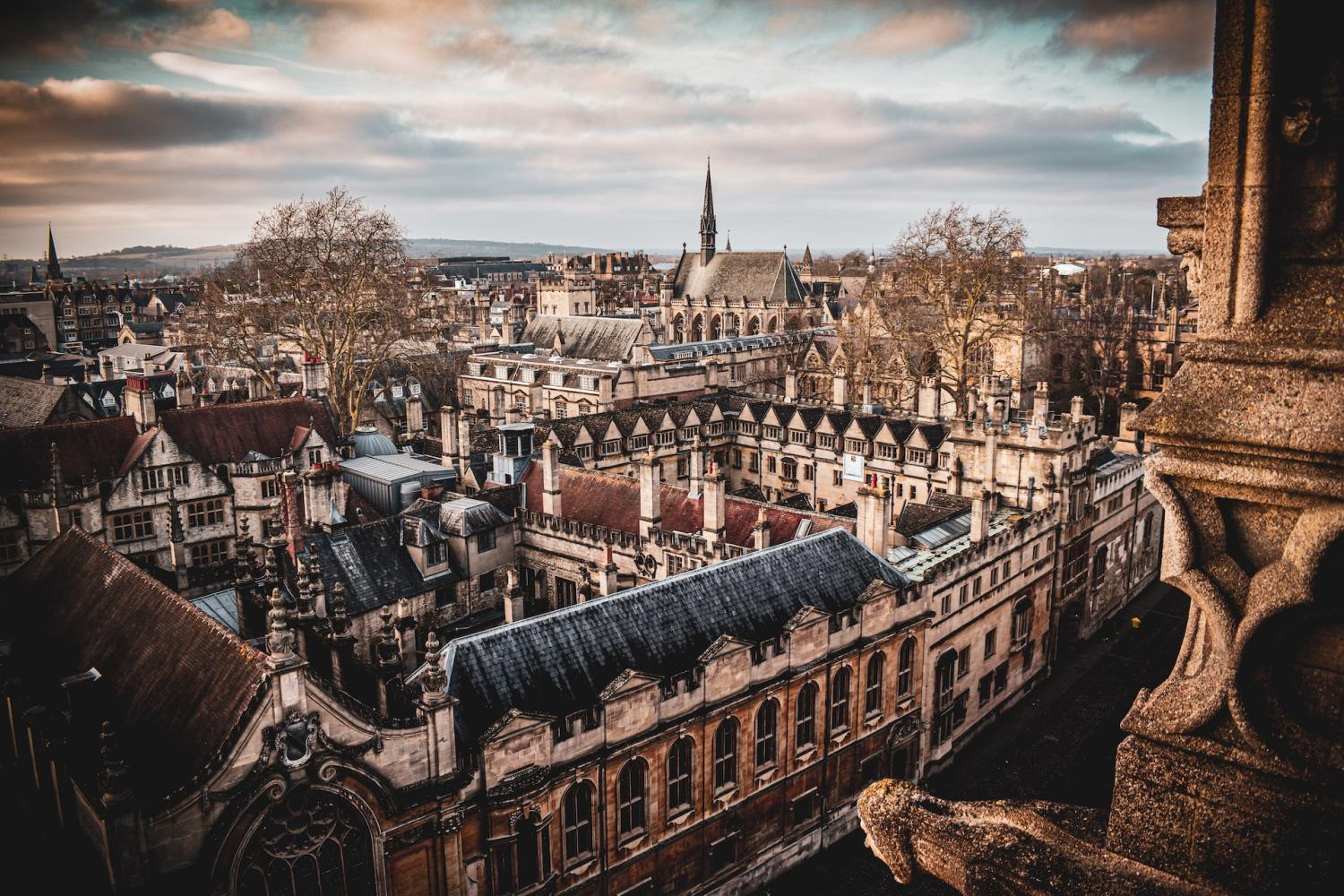 In the fall of 1988, I was a seven-year-old boy and had been sent to the end of the block of "Pill Hill" in St. Paul to meet a priest, a friend of my father, who would be joining my parents for dinner. I had heard good things about this priest and introduced myself to Fr. "Car." Only later would I learn how to spell his name. I saw the usual wine bottle but was delighted to see the large chocolate bars which would be for me and my four siblings. I was struck by how attractive he was and how he talked like the characters in the Sherlock Holmes series we watched.
I saw something in Fr. Ker that evening. Perhaps it was how much my father admired him or how he put everyone at ease. We weren't at dinner with the adults that night. But my parents would let me sit in on their conversation afterward.
I began praying for Fr. Ker at nightly family prayers shortly after that, along with another priest friend of the family who would come for dinner and bring chocolate to the children. I like to think it was more than the chocolate that drew me to these holy priests, although it is always good practice for a priest to do that.
Fr. Ker, of course, was the greatest Newman scholar of his generation, and certainly one of the best three since 1890 when Newman died. Raised by an atheist father and a "Bible Christian" mother, Ker became a Catholic while an undergraduate at Oxford where he studied the Greek and Latin classics as well as modern philosophy. He went on to do graduate work at Oxford on a scholarship and later at Cambridge, where his atheist examiner rejected his doctoral dissertation on Christianity in George Eliot for being too pious.
Fortunately, in those days, a doctorate was not needed for academic life and Ker went on to teach English and Latin literature at the University of York, one of the best English departments in England, in the late 1960s. A daily Mass goer, his research focused on the Victorian period but, surprisingly, he read little Newman. None of his colleagues or students knew of his intense prayer life and were surprised when he announced he was leaving the academy and giving away most of his library to become a parish priest.
Around the time he began his priestly formation, Ker was asked by an Italian priest to help with a translation of selections from The Idea of a University (Ker had learned Italian to read Dante). This and coming to know Fr. Charles Stephen Dessain, the greatest Newman scholar of his generation, brought him into his life's work. He continued to work on a superb critical edition of Newman's Idea of a University which was published in 1976 by Oxford while training, privately, for the priesthood.
Popular with undergraduates, Fr. Ker became a chaplain at a university and quickly became the world's foremost Newman scholar. He was brought to Oxford to teach and began bringing together Newman scholars and amateurs regularly for a Newman summer school. Among the young scholars was my father, Don Briel, who had spent much time in Oxford in his own Newman research. The two quickly became friends and my dad, along with some friends at the University of St. Thomas, including Bishop Kennedy of theology and Fr. James Reidy of English, brought him in for a year as a chair in theology and philosophy, with the hopes of having him stay on permanently. Unfortunately for the American academy, the declining health of his parents brought him back to England at the end of the year.
From what I understand these were the years of eccentric academics. I heard of one Polish priest physically attacking a colleague who insulted John Paul II and of another faculty member who walked around the university wearing a mosquito net to avoid getting malaria. Fr. Ker delighted in these quirks and the leisure available before smartphones, computers, and endless committee meetings.
After that year in my childhood, I saw little of Fr. Ker, although my dad would give him updates about me and he would tell me of Fr. Ker's doings. He came back to Minnesota every couple of years to give a talk, which allowed me to see him on occasion. I thought of him as a good, funny priest. Ten years later, as I developed a love for Newman as an undergraduate, I got back in touch with Fr. Ker through his writings and when he came to Notre Dame to give a lecture. I began to study Newman more intensely and even to write about him and thus grew closer to Fr. Ker.
After a master's degree I considered studying with Fr. Ker in England but was told by an American professor that if I wrote on Newman, I would also have to be trained in the nineteenth-century German theologians. "No thanks," I thought and pursued a different path but still wrote now and then on Newman and always had Fr. Ker's advice in those pursuits.
My own life, like all lives, has had its ups and downs and Fr. Ker gave wise counsel during those years and celebrated the many joys. He and my father also became closer and I began to learn of Fr. Ian's own serious crosses – things he kept to himself and a couple of friends as he continued to live the kind of authentic joy that we see in Mother Teresa or G K Chesterton. He remained a faithful priest with a remarkable intellect, range of reading, and an elevated sense of wit while his private life and work as a parish priest was remarkable for his traditional piety: the monosyllabic words of litanies, the rosary and relics and, frankly, the mostly ugly Catholic Churches of England, the original medieval Catholic churches having been taken by the Anglicans.
I went to England a few times for academic reasons since finishing college and saw Fr. Ker both there and in the States about once a year. I went to a conference on Newman he gave in 2004. We visited Littlemore, the site of Newman's conversion, and were given an address by a famous Anglican theologian who showed us an icon of Newman venerated in that Anglican parish. Fr. Ker, who seemed baffled that Newman would be venerated by Anglicans, thought the decisive thing about Newman was that he became a Catholic, and announced to the group that "it is time to go to Church" and so we had Mass at the Oxford Oratory.
On another occasion, I was at Oxford for a patristics conference and went out to Burford to Fr. Ker. He always seemed to think that I needed to understand English culture better and so took me to a feast at a pub with some bitters. He insisted that an English lunch must finish with cheese and so ordered a plate with about two pounds of various English cheeses. We then went on a walk through the countryside on medieval bridleways and visited some medieval Churches.
A weeklong workshop on Newman at Oxford in 2015 allowed me to spend more time with him and opened up Newman even further to me. I noticed there that he had little patience for the Americans running the conference who didn't attend to the people taking care of us – especially insisting that they give a larger donation to the religious sisters who hosted us at Littlemore. Fr. Ker always was considerate to the simple and had little patience for arrogance.
Fr. Ker's deep understanding of theology, which he took up after establishing himself as a scholar in literature, helped him understand the core of Newman's religious thought. Others such as Walgrave before Ker, but perhaps not since, exceeded Fr. Ker in their grasp of the dogmatic repercussions of Newman's thought. However, no one before or since has been able to understand the synthesis of the theoretical, abstract theories and reality (as Newman's epitaph says: "ex umbris et imaginibus ad veritatem" – from shadows and images to the factual truth) as Fr. Ker has.
Fr. Ker's early work in editing the writings of Newman (Idea of a University and Grammar of Assent, as well as many volumes of the Letters and Diaries) allowed him to master Newman's writings, which altogether make up nearly 90 volumes. Fr. Ker already had, of course, a deep knowledge of the nineteenth-century English context. Newman's thought, like Augustine's, is always shaped by his personality. Newman writes in response to the demands of the times and friends. Fr. Ker had all of Newman's works at his fingertips and this allowed him to see the often hidden consistency of this thought.
Perhaps more importantly, this knowledge of the corpus allowed Fr. Ker to present Newman the man and the consistency of his life through its many changes. When Newman wrote in 1863 that "from first to last, education has been my line" Fr. Ker was able to see this facet of his character expressing his sanctity. In Lent 1840, when Newman was famous throughout England, he went to the village of Littlemore where he was vicar and threw himself into the education of the urchins at the free parochial school. He busied himself with convincing the girls to comb their hair and the boys to wash their hands. He taught them their ABCs and to sing hymns. I have not heard of an endowed chair at Harvard moving to Kentucky to teach third graders in Appalachia, and yet this is what Newman did. Fr. Ker was able to tie together the strands of Newman's life and to introduce his readers to the real saint.
And yet, Newman was not merely a historical figure or just a saint from long ago for Fr. Ker. Newman was a living influence. Often called the "Father of Vatican II," Fr. Ker brought to our attention Newman's authority in the contemporary Church's understanding of conscience, the development of doctrine, and the nature of faith. Fr. Ker's careful exegesis of Newman's Essay on the Development of Doctrine has justified the reading of the documents of Vatican II with a hermeneutic of continuity.
Fr. Ker, who wrote so much, also continued to write in literature, with a magnificent volume on the English Catholic Literary Renaissance from Newman to Evelyn Waugh. He seemed to have read all of English literature, the good and the not-so-good. After the critical edition of the complete prose works of T. S. Eliot was published Fr. Ker intended to write a scholarly study of Eliot along the lines of his massive biographies of Newman and Chesterton. It is a loss to the reading public that he could not do this.
My friendship with Fr. Ian was always, in some sense, through my father's intimate friendship with him. This friendship started in Newman and their desire for him to become a doctor of the Church but grew to a warm relationship with much teasing. For some reason, my dad thought that Fr. Ian was cheap (this was not my experience). My dad went to England for Newman's beatification in 2010 and Fr. Ian took friends out to an extravagant dinner. My dad returned home and said that Newman's second miracle, necessary for his canonization, happened that night as Fr. Ian paid the bill.
As my own father was dying in 2018, Fr. Ian was distressed that he seemed to accept his fate without putting up a fight – either by medical care or by having Jack Sullivan, the Massachusetts deacon who was healed by Newman's intercession, pray over him. I think that Fr. Ian admired dad's courage and patience in his illness but was distressed at losing an old friend. As I myself grow older and lose friends I am beginning to appreciate how difficult that is.
I kept in touch with Father Ian in the four years since then, announcing the birth of children, Christmas wishes, questions on Newman, and by my prayers. I continue to teach Newman to my undergraduates and use Fr. Ian's critical editions in my preparations for class.
When I learned of his death, I prayed the office of the dead for Fr. Ian. As Mr. Crouchback's confessor says of him in The Sword of Honor, I suspect that Fr. Ian has "not long for purgatory." But then, neither did St. Monica, yet Augustine asks his readers to pray for her in his Confessions. Please do pray for Fr. Ian in your charity.