An Encounter of Love
January 5, 2023
3 min read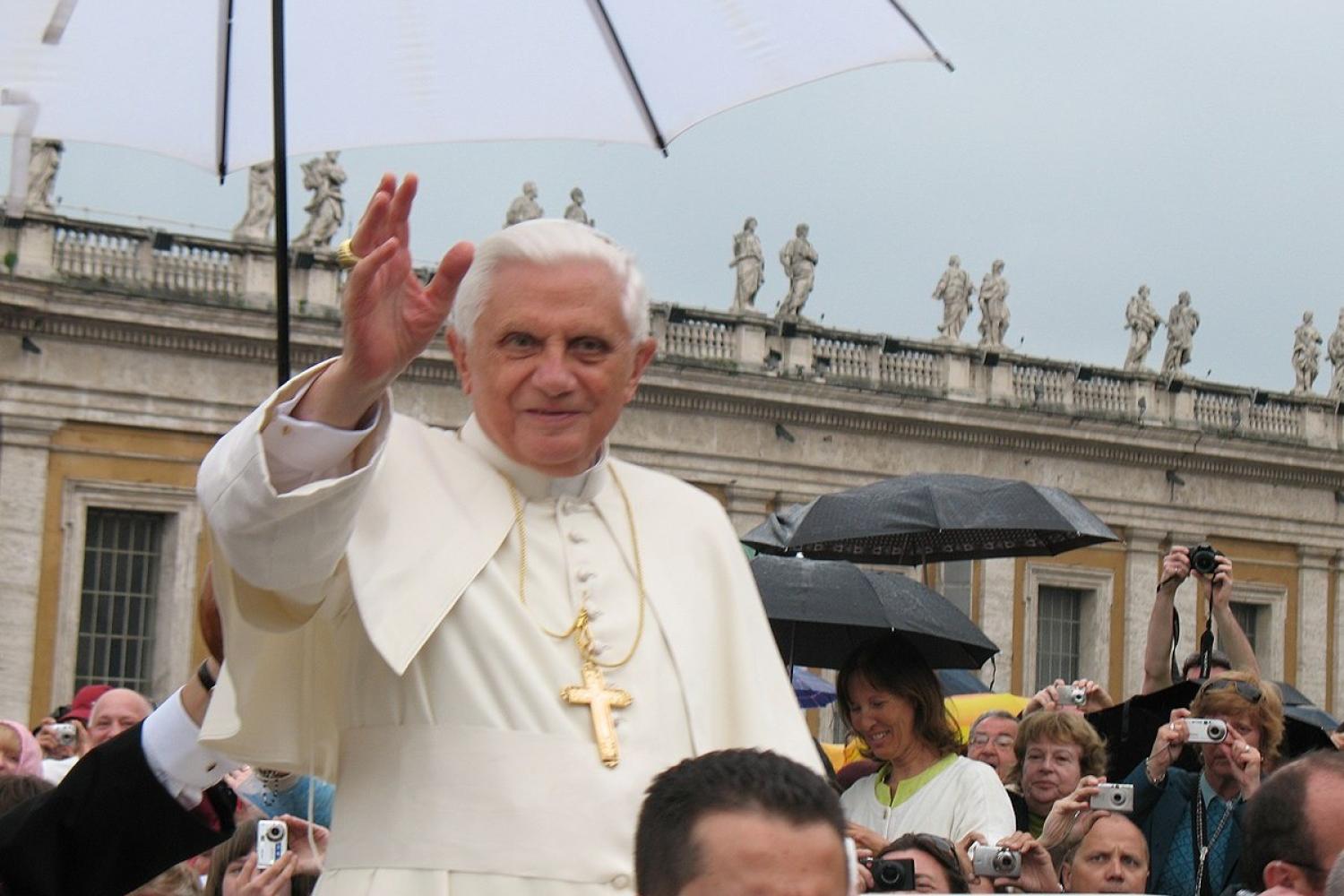 Pope Benedict XVI, defender of the faith under St. John Paul II, pope for almost 8 years, and pope emeritus for almost 10, died to this world just before the turn of the new year.
His encyclicals on the theological virtues, his apostolic exhortation on the Word of God, his trilogy of books on the life of Jesus of Nazareth, and his lifelong love and service to the Church and her members across the world were all summed up in his final words: "Lord, I love you."
While he was sometimes portrayed in the media as a sort of narrow-minded professor, Benedict's work and writings show a different reality. The following quote from his first encyclical, Deus caritas est, is a small emblem of his magnificent illumination of the truth of the faith made whole and incarnate: "We have come to believe in God's love: in these words the Christian can express the fundamental decision of his life. Being Christian is not the result of an ethical choice or a lofty idea, but the encounter with an event, a person, which gives life a new horizon and a decisive direction."
Pope Benedict was laid to rest in the crypt of St. Peter's Basilica after a simple funeral presided over by Pope Francis. In his homily, Francis reflected on Jesus's own final words, "Father, into your hands I commend my spirit."
---
Bishop Barron offers a reflection of gratitude on the life and simplicity of Benedict XVI, offering glimpses into his life: "His friends say that after a long day of work during the John Paul II years, Ratzinger most liked to visit one of the bookstores near the Vatican, find the latest book of theology, and make his way to a quiet corner of a nearby restaurant and dine alone (his favorite dish was cacio e pepe) while absorbing the text."
---
Abroad, Archbishop Timothy Broglio, president of the United States Conference of Catholic Bishops, lauded the faith and endurance of the Ukrainian people in a meeting with top clerics and military chaplains in Kyiv and Lviv.
In northeastern Africa, a bishop and priest were released from prison in Eritrea two months after being arrested for criticizing human rights violations, including the forced military enlistment of young people. The status of another priest arrested at the same time remains unknown.
Observers have declared 2022 to have been "the most disastrous year for the Nicaraguan Catholic Church" to date, as the administration of President Daniel Ortega was accused of 140 attacks against the Church in a single year. These attacks have ranged from desecrations and unlawful confiscations to the arrest and exile of priests and bishops. Read more about the ongoing persecution of the Church in Nicaragua here.
---
Finally, a Catholic writer delves deep into the works of J. R. R. Tolkien to explore his devotion to St. John the Evangelist.
Recent Updates