Basilica di Sant'Agostino and Motherhood
The Basilica of St. Augustine in Campo Marzio (or Sant'Agostino) is fittingly the resting place of St. Monica, Augustine's mother. The Roman basilica was begun in 1286 to serve as the mother church of the newly founded Order of St. Augustine. The façade, which was constructed two centuries later, utilizes travertine taken from the Colosseum. While the basilica is home to numerous artistic and pilgrimage attractions, two of the most famous relate to motherhood.
The first pilgrimage attraction that reminds Christians of the sanctity of motherhood is tomb of St. Monica, patron saint of mothers (and difficult children), as well as difficult marriages. St. Monica was married to the Roman pagan Patricius, whose temper and infidelity caused his saintly Christian wife much suffering. Patricius refused Monica permission to baptize their children as Christians. Nevertheless, Monica's life was marked by prayer, penance, and perseverance, hoping and striving tirelessly for the conversion of her husband and children. Her son Augustine was famously a brilliant student and eventually renowned rhetorician, espousing and teaching philosophies contrary to Christianity. Monica followed her son throughout his burgeoning career, seeing her prayers answered at last when St. Augustine was converted through the preaching of St. Ambrose. St. Monica died soon after her son's conversion, having experienced the peace that was the fruit of her perseverance.
The second pilgrimage attraction that reminds Christians of motherhood is a statue of Mary by Jacopo Sansovino. The sixteenth-century marble Madonna del Parto (Our Lady of Childbirth) depicts Our Lady enthroned with the Christ-child standing in her arms. Although she is holding Christ, Mary is depicted as pregnant. Perhaps most remarkable about the work of art are the miracles attributed to its veneration. For centuries, pilgrims to Rome have prayed before this statue for the gift of conceiving, having safe pregnancies, and bearing healthy children. The statue's display is covered in the birth announcements, baby pictures, and hearts indicating the grateful return of those pilgrims whose prayers were answered.
In Sant'Agostino, pilgrims are reminded of the grace and suffering of motherhood. In the life of St. Monica and the offerings left in gratitude at the foot of the Madonna del Parto, we are reminded of the prayerful perseverance of countless mothers and we see that God attentively hears our prayers. However, in both we also see the suffering of motherhood that was promised to Our Lady herself: "and a sword will pierce through your own soul also, that thoughts out of many hearts may be revealed" (Luke 2:35).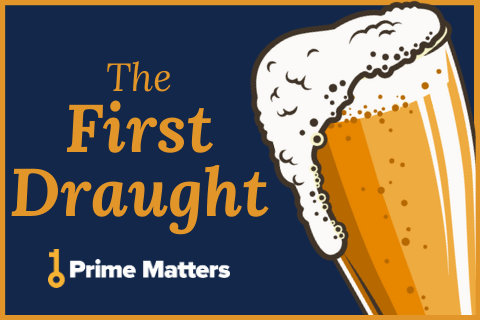 The First Draught
To receive the Weekly Update in your inbox every week, along with our weekly Lectio Brevis providing insights into upcoming Mass readings, subscribe to The First Draught.
The First Draught